The first morning in China. Do you know that feeling of waking up in another country, that different view when you open your eyes, the unusual smell? Such an exciting feeling, right? I love that, it gives me some "Oh-my-god-I-am-abroad-and-I-am-having-an-adventure"-Feeling.
It is worth to explore the area a day in advance
Fortunately, we had scouted out the location in Guangzhou the day before. Therefore, we knew immediately where we could get breakfast. We entered the restaurant and tried to order the food in English. This turned out to be more difficult than we thought. Hardly anyone understood us. It seems that many locals do not understand English. That's why I can only recommend everyone to have a translation app ready on their cell phone. Such an app made the communication between the locals and me much easier. In the end, we simply pointed to the pictures on the menu so that we could communicate.

Rice porridge is not sweet in Asia
A fun little culture fact that I wasn't even aware of myself: when you order rice porridge in China, or Asia in general, it's usually a spicy/salty rice porridge. I told my German friends that the dish "rice porridge" is a rice porridge, not realizing that they would all think of a sweet German rice porridge. In fact, after they all ordered the porridge, they were disappointed to discover that it wasn't that sweet. Oops! Being Asian myself, I automatically assumed that rice porridge must taste savory. My fellow team members thought differently. Well, for the next time everyone knew and no one has ever ordered the rice porridge again.
The Guangzhou Yang Cheng Tong Card
To reach our partner school from the hotel, we had to cross the "Zhujiang River" each morning. For this we bought the "Guangzhou Yang Cheng Tong Card", a kind of prepaid card on which you could load money. With it, you could now use the public transport, you could pay with it and also buy food. In addition, there was a small discount for using the card.
So, now there was always this one specific ferry that we could take to school in the morning. But if you ever miss the ferry, luckily there was always the option to walk across the bridge. However, this is much more strenuous with a wheelchair. Because inclines and uneven ground were unavoidable!

The Guangzhou English Training Center
When we arrived at the school, we were warmly welcomed by our exchange partners. They prepared a little program for us, which included showing us the school, a presentation about Guangzhou and the Chinese culture and they even had special Chinese food for us. The school "G(uangzhou)E(nglish)T(raining)C(enter)" is the only one of its kind in China. It is similar to the vocational training center in Germany, where people with a disability can make an apprenticeship. GETCH teaches their students English and helps them find a job. After meeting our partners and everyone else involved in the project, we went back to our hotel and rested before meeting in the evening for dinner.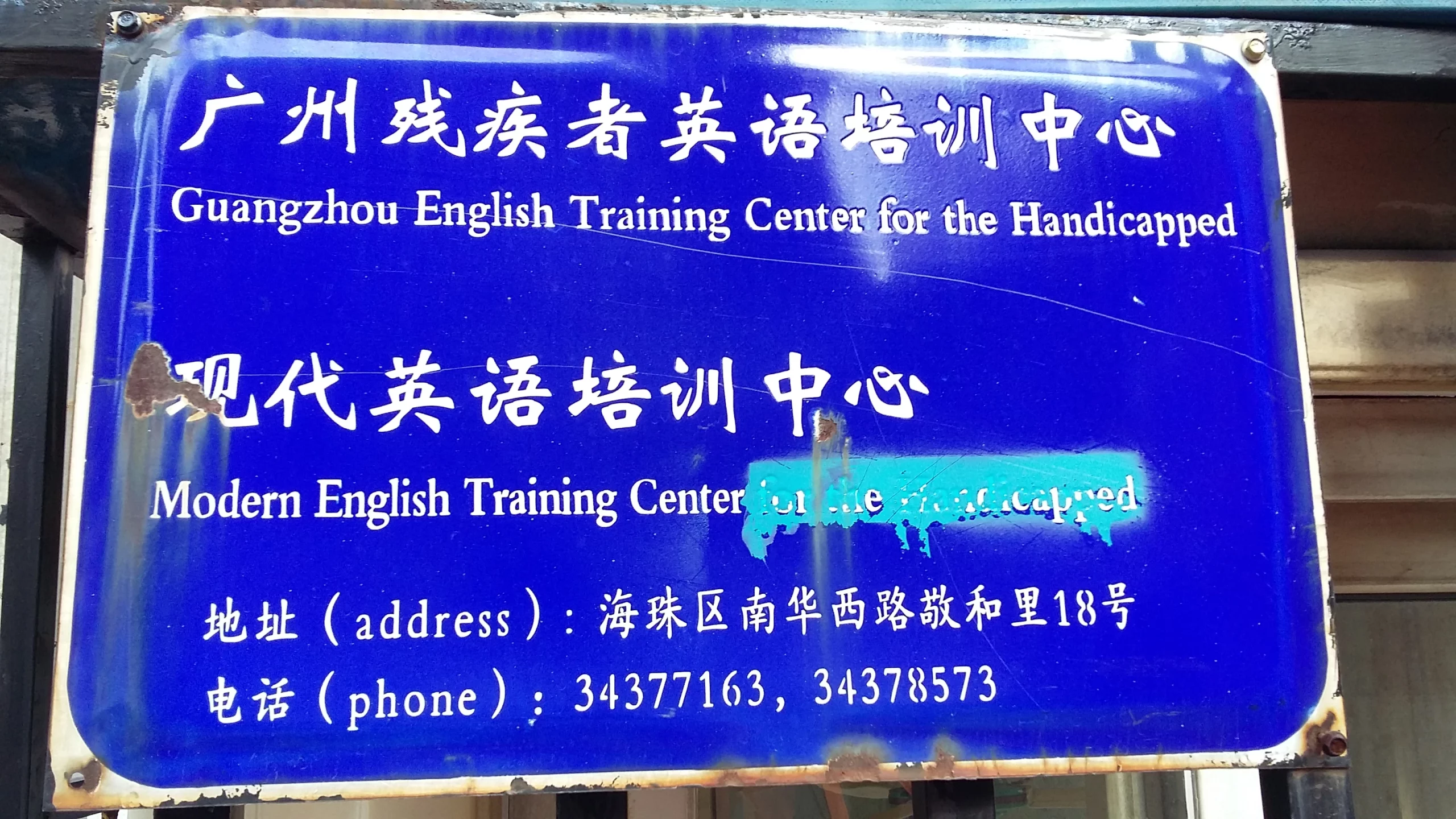 Three things I learned from this day:
1) Standard Porridge is always savory
2) Have a translation app on your phone
3) If you are in Guangzhou, then get the "Guangzhou Yang Cheng Tong Card"