Somewhere in Germany, there is a mountain with monkeys. And you can feed these monkeys with popcorn. Does this sound crazy? Yes, it sounds. Is it worth an experience? Definitely!
The monkey mountain in Salem
Through stories I have learned of this monkey mountain and I thought 'Hey, that's something I should do once in my lifetime.' The idea of ​​"feeding monkeys with popcorn" sounds simply unique and aroused our interest. So today we went to "Affenberg Salem", very close to Lake Constance. On this mountain there are said to be over 200 Barbary monkeys living in the wild, which have 20 hectares of forest to themselves.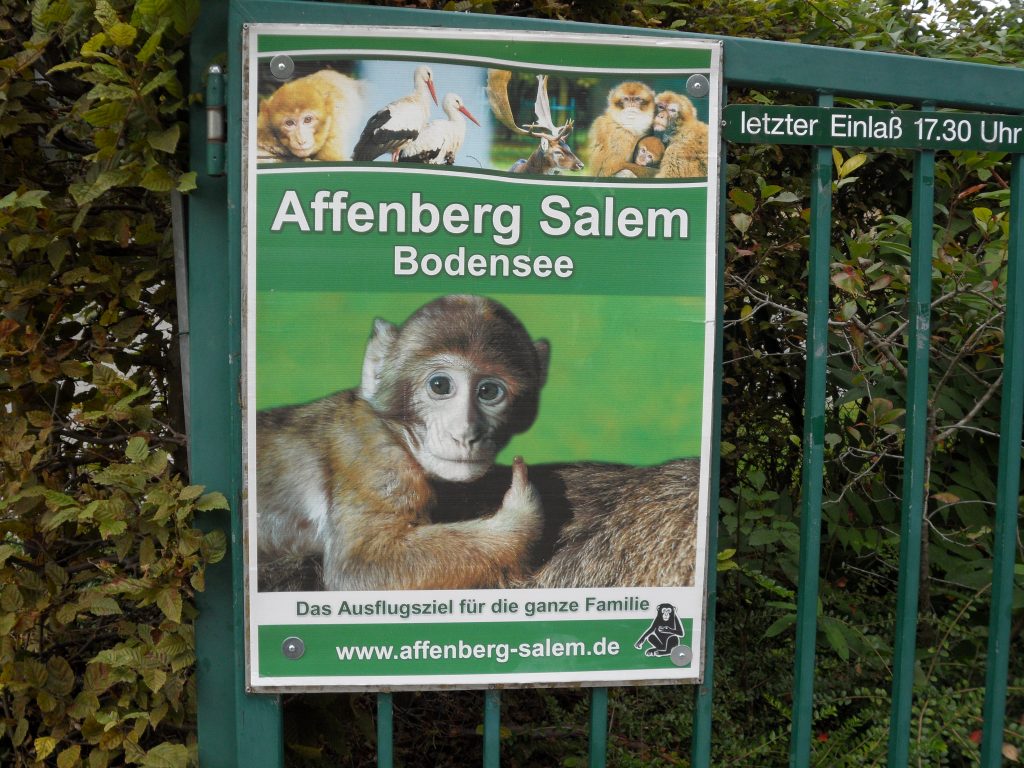 Barrierfree and yet very steep
The main thing first: the mountain is barrier-free, but still a mountain. That means it can get veeeeery steep all along the way. That's why it can be tiring for the companion of the wheelchair user.
We bought our tickets at the front desk, but there is no free ticket for the accompanying person, and off we went to the park. In the park we came across a stork and a cock. Because besides the monkeys there are other animals living on this mountain. A little further on was a small lake with fishes and ducks. But of course that was not what we came for.
Let's start feeding the monkeys
Finally arriving at the entrance of the monkey mountain outdoor enclosure, you can take a handful of popcorn for feeding. You do not have to search long until you meet any monkeys, because they are actually everywhere. They have placed themselves along the paths, knowing that they will be fed. And so it didn't took us long before we could give our first monkey popcorn. I admit, at first I was a bit hesitant. What if the monkey scratched or attacked me?
Well, other people didn't get injured, so I should be fine too. As long as you stick to the rules, nothing will happen. So do not pet the monkey and best do not make fun of them xD If you hold the popcorn in front of them and pull back your hand back, the monkey might beat the food out of your hand! It's unbelievable how close you can get to the monkey. Also, everything was okay and doable in a wheelchair. And so we fed all our popcorn and arrived almost at the end of the park. But before we went right to the exit, a wooden bridge led us through a pond with other ducks, swans and fish to the fallow deer site.
Deer feeding
Here a feeding of deer was just happening and while the zookeeper told us facts about the animals, we could ask questions and we were even allowed to feed the deer. And so our trip to the Monkey Mountain ended – a mountain full of monkeys.
Okay, here's a video 😀
Things I learned:
1) On the monkey mountain you can feed monkeys with special popcorn.
2) The mountain is very steep and can be a challenge for the 'pushing person'
3) Beside the monkeys there are also other animals
4) Here's the link to their homepage: https://www.affenberg-salem.de/en/